A love for people, an urge to help
Dermatology PA stitches healthcare passion into sportswear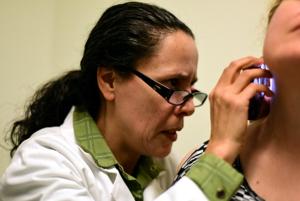 When designing a pair of palm-less, sun-protective gloves to enhance her tennis game, Patricia Ferrer knit together more than just an 80-20 blend of nylon and spandex.
The gloves weave other threads of her life into the UPF 50 fabric — her experience in dermatology, her love for sewing and her passion to provide medical care both in Tucson and San Cristóbal de las Casas, Mexico.
"I have been so fulfilled by being in healthcare," Ferrer, 50, says. "It feeds your soul to take care of others."
The gloves
Ferrer, a physician assistant for DysonDermatology, PLLC in Green Valley, pieced the first pair of gloves together after a classmate in a Pima Community College sewing course shared scraps of knit fabric.
"I love being outside, and I love playing tennis, so I've always been looking for a sun-protective glove," says Ferrer. "I've bought them all, and none of them really works for me."
She fiddled with the fabric, avoiding features in other gloves that annoyed her — spaghetti strap loops for the fingers, gloves with Velcro or full gloves that keep her palm sweating and unable to feel the racquet.
That was in December 2014. The website for her PalmFree SunWear went live in April. In two months, Ferrer sold more than 75 pairs of gloves, advertising primarily to tennis players and dermatology patients. With the gloves blocking 98 percent of ultraviolet radiation, she sees them benefiting other athletes, outdoorsmen, construction workers and those with photosensitive skin.
"The most important thing to me is to have people wear the glove and prevent a lot of the heartache in the future of having skin cancer on the back of the hands," Ferrer says.
With the gloves designed in Tucson and manufactured in Green Valley, they are about as local as it gets.
"I want to keep it here in the United States," Ferrer says of the business. "I like that this came to fruition here in Tucson, because it's such a hot and sunny climate, and we get bombarded by the sun."
She sells the gloves for $22 with free shipping. Personal profit is low on Ferrer's list of reasons to succeed.
If, in a year, she deems the business successful, she plans to use the profits to support local charities and her medical mission work in Mexico.
San Cristóbal de las Casas
The first time Ferrer worked with medical patients in San Cristóbal, she hopped into a cab with a man she had met only one day earlier.
Sergio Castro Martinez, now in his 70s, has spent most of his life traveling by taxi around the colonial city of San Cristóbal to treat burns and wounds. In the evenings, locals come to his clinic — a building that also doubles as a museum of textiles and artifacts — even though he isn't actually a doctor. With him, there is trust.
Ferrer encountered him first in 2008, after she left her job as a dermatology physician assistant in Washington to travel through North America and into Guatemala with her partner, Bruce Borden.
"I just remember being totally bored," she says. "I didn't have a purpose anymore, and as you travel in a nice vehicle throughout these poverty-stricken areas, you just feel a tremendous amount of guilt."
Volunteering was nothing new to Ferrer, but when she and Borden settled in Tucson in 2009, she knew she had to continue helping the healer from San Cristóbal.
Now, she takes two two-week trips to the city each year, often taking another medical professional with her. She hopes to use profits from the sun-protective gloves to sponsor trips for University of Arizona students interested in medicine.
The people call him "Don Sergio," and as he ages, Ferrer wants to find a way to continue his work when he no longer can, perhaps through connections between American and Mexican medical students.
"He's a guy who gives of himself and asks for nothing in return, and I think it just stuck with Pat," Borden says of the man who has also built schools and water treatment systems in the Chiapas region. "She thought, 'This is the way I want to be, and this is what I want to do, to help him with what he does,' and I think that was kind of the impression."
Between her trips, Ferrer collects medical supplies, such as gauze wraps, ibuprofen and gloves to ship to the healer. He takes no payment from patients, instead sustaining himself and his service with donations from tourists who visit his museum. He has built the collection of Mayan pieces over the years — many are gifts from thankful patients.
Even here, Ferrer's interest in quilting and sewing applies. She cherishes the intricacies of Mayan textiles.
"This whole experience for her, this is part of her life, and she has incorporated it into everything," says Dr. Scott Bolhack of the Wound Care Center at Northwest Medical Center in Tucson. Bolhack accompanied Ferrer on a trip to Mexico in 2014. "You're dealing with the personality of a cultural anthropology and the personality of indigenous populations," he says.
It is a personality that Ferrer has embraced, despite parents and grandparents who rarely had kind words for the country Ferrer's grandfather fled during the Mexican Revolution.
"I tell my parents how beautiful it is, how wonderful the food is, how wonderful the people are, and they just look at me with these puzzled expressions like, 'Are you sure you're talking about the same Mexico?' " says Ferrer, who grew up in Texas.
Clinica Amistad
When Ferrer and Borden settled in Tucson, Ferrer found herself longing for Mexico, even though she had begun volunteering at the local Clinica Amistad, a free clinic that provides healthcare for the uninsured.
"I told Bruce, 'I just want to go back and be in Mexico. They really need me,' " she says. "And Bruce told me: 'Just focus on Clinica Amistad. They need you there, too.' "
Since Ferrer began volunteering at the clinic in 2010, the clinic has grown from offering the services of a few main providers to about 20 rotating healthcare professionals.
At the beginning of June, the clinic moved to a new doctors' office at 101 W. Irvington Road to accommodate more than 2,000 patient visits each year.
"She is very concerned for (patients') welfare, and that comes through without practically any words spoken," says Dr. Raymond Graap, the clinic's medical director, who retired from his practice in endocrinology and internal medicine in 2010.
Ferrer not only works with patients, but she is also involved in the organization of the clinic. It is here that she has connected with volunteer UA public health students whom she hopes to take with her to Mexico one day.
"She has got a good view of things because she has worked in the U.S. medical scene and in private practice, and then at the same time has worked with terribly poor people in extreme situations in Chiapas," says the Rev. Ricardo Elford, the clinic coordinator.
It doesn't hurt that in everything she does, Ferrer loves people. Hers is a tapestry of compassion.
"How fabulous is it that I created a product that can help people, and the byproduct of money from that is going to help others?" Ferrer says. "That's a beautiful circle there."
Buy the gloves
PalmFree SunWear SunGloves are available for purchase for $25 at palmfreesunwear.com